First of let me tell you, I don't like fast food at all. As many of you know already, I love to cook and bake my own food! I also prefer baking my own bread instead of buying it somewhere.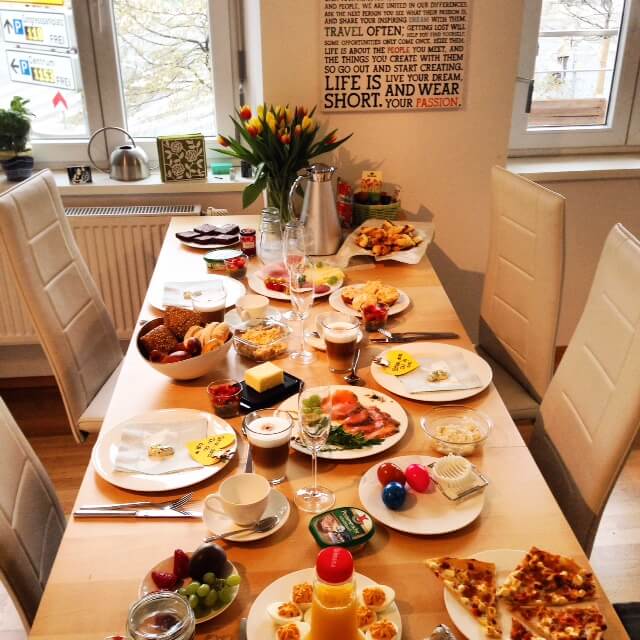 Our easter brunch at our apartment in Germany
Jeremy likes our homemade meals much better than eating out. Of course sometimes we enjoy going out to dinner, for example to our favorite Greek restaurant in Würzburg or a little authentic Italian restaurant!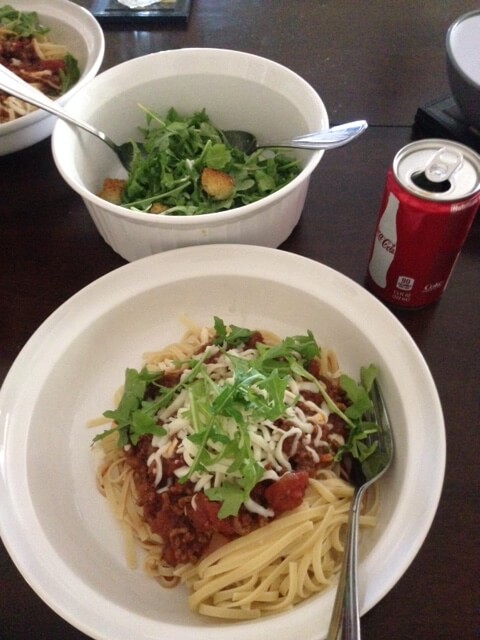 I haven't been to a Starbucks more than 5 times in my entire life and I don't go to dunkin donuts. We hate to fill the pockets of huge companys.
I read an article about Starbucks long time ago and the owner of Starbucks said himself something about that you can buy the same shitty coffee to go on every corner for 1$, but they made their stores really nice and people are willing to pay 4 times the price now. 
So we prefer to go to tiny restaurants, where the owners really care about their customers and get in touch with them.
But back to the topic now:
When I arrived here in the USA I was a little shocked about the unbelievable variety of fast food. As we live in a Van and cooking is not always super easy, we tried the food at in-n-out, chipotle and Panera bread so far.
Chipotle
The first fast food I tried was at Chipotle. We got a burrito bowl there with steak, rice and beans and chips with guacamole! We shared that and spent 12 bucks for that. This price is ridiculous, the food was ok, but nothing special to me at all. And for sure not worth 12 dollar!
Every time we drive by a chipotle I can't believe these fast food restaurants are packed! Do Americas really like that so much or is there more to this story?
In-n-out
Everybody in California talks about in-n-out, so we went there last week.
Jeremy told me about the secret menu and ordered for us a double double burger with animal fries. Animals fries are regular French fries with grilled onions, secret sauce and cheese! The burger tasted really fresh and good. The fries were delicious.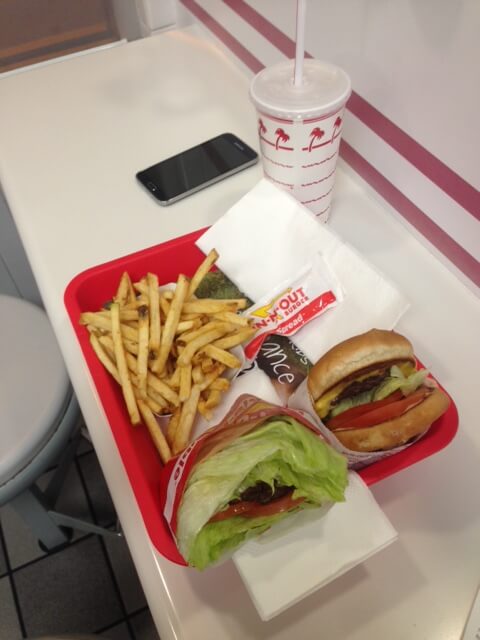 double double burger (protein style), cheeseburger and fries
Panera Bread
The next fast food restaurant we wanted to give a chance was Panera bread. 
We were in San Clemente in the outlets, which a just opened and I was curious what Panera Bread is. It seems to be a little like our Dean and David in Germany. After the experience at chipotle and in-n-out I did not expect much.
We ordered the special "you pick 2" and got a ceasar salad and a grilled chicken sandwich.
The sandwich was ok, but I truly loved the salad. It was really delicious and so fresh! We spent about 10$ for that lunch. The atmosphere at the Panera bread is very good, we were sitting outside and enjoyed the nice weather and the good food.
We like that they bake their own bread. I my opinion it is overpriced too, because to bake your own bread does not cost more than 1$, but I feel better spending my money at Panera bread instead of any of the other fast food chains so far!
Which are your favorite restaurants in the USA? What should we try next?
How useful was this post?
Click on a star to rate it!
Average rating 0 / 5. Vote count: 0
No votes so far! Be the first to rate this post.