After a delicious dinner with Jeremy's family, we started our California Coast Road Trip in the late evening in direction San Diego. We don't know yet where our path will lead us and we thought it'd be best to plan it as we go.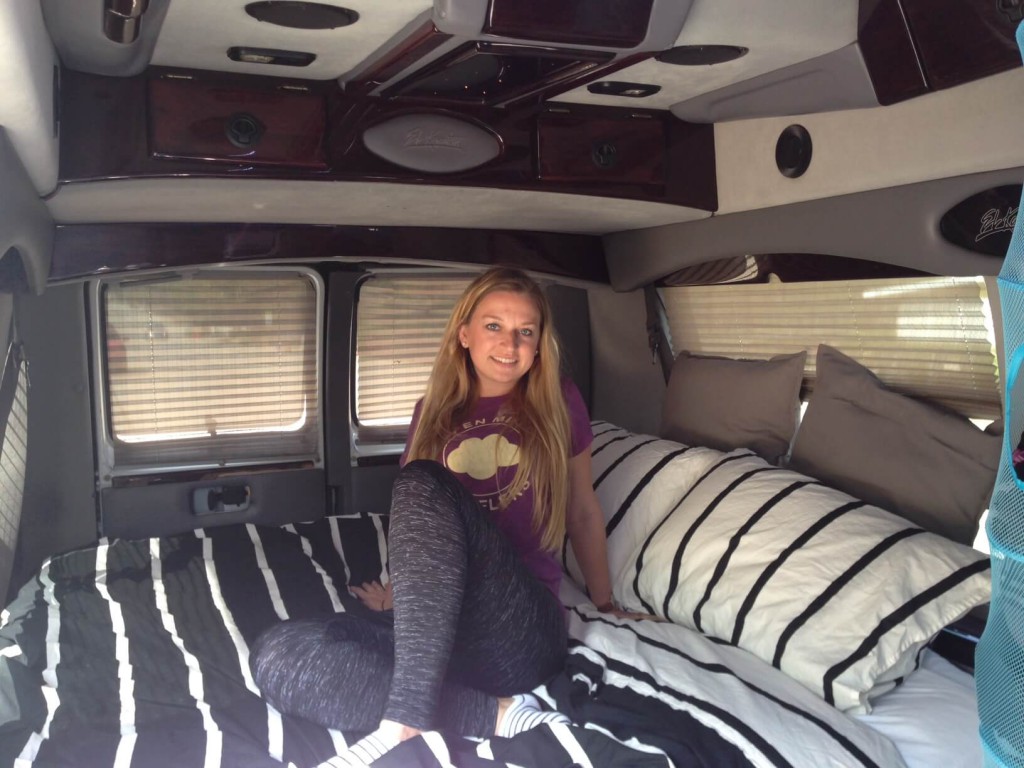 So we drove along the Pacific Coast and stopped at about 11pm close to the pier in Huntington Beach. We parked the Van and went to sleep.
Huntington Beach
Our first night in the Van was good, but I had to pee so bad 😂  After waking up, we took our bikes to ride to the pier and along the beach. It is so perfect to wake up at such a beautiful place on earth. The fresh air feels so good.
we love to ride our bikes to the beach
It is very beautiful in Huntington Beach, a really nice town to spend a little time, play volleyball or go surfing. We enjoyed one hour walking at the pier and watched the surfers in the ocean.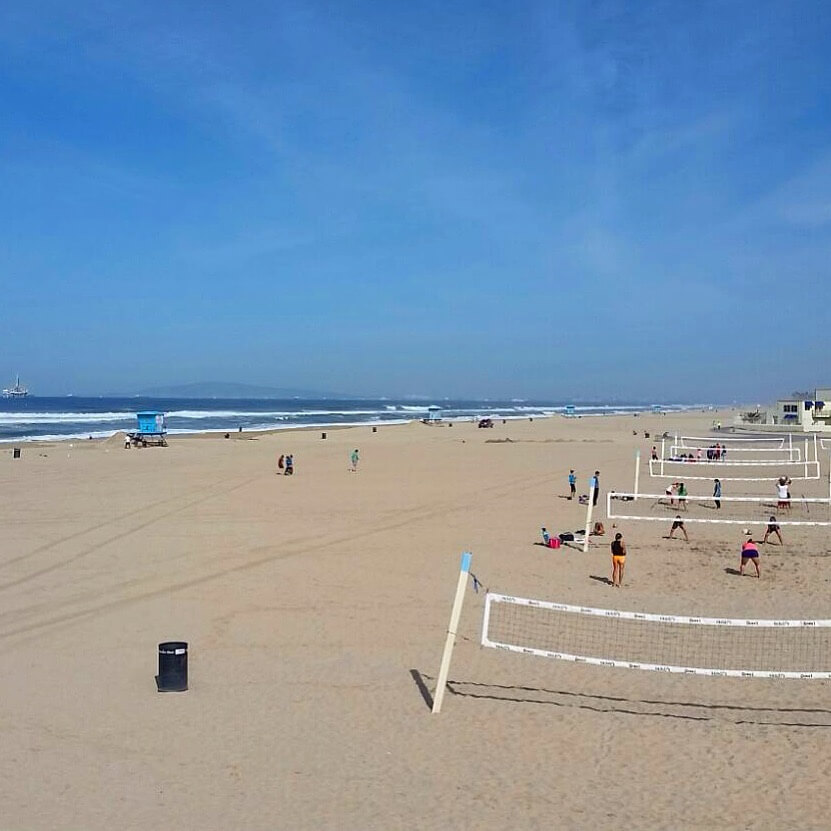 Huntington Beach, California
Orange County
Jeremy's uncle lives in Orange Country, so we thought it would be nice to meet him. We stopped for a few minutes at the Fashion Island. I love the malls in the USA and the perfect weather in California.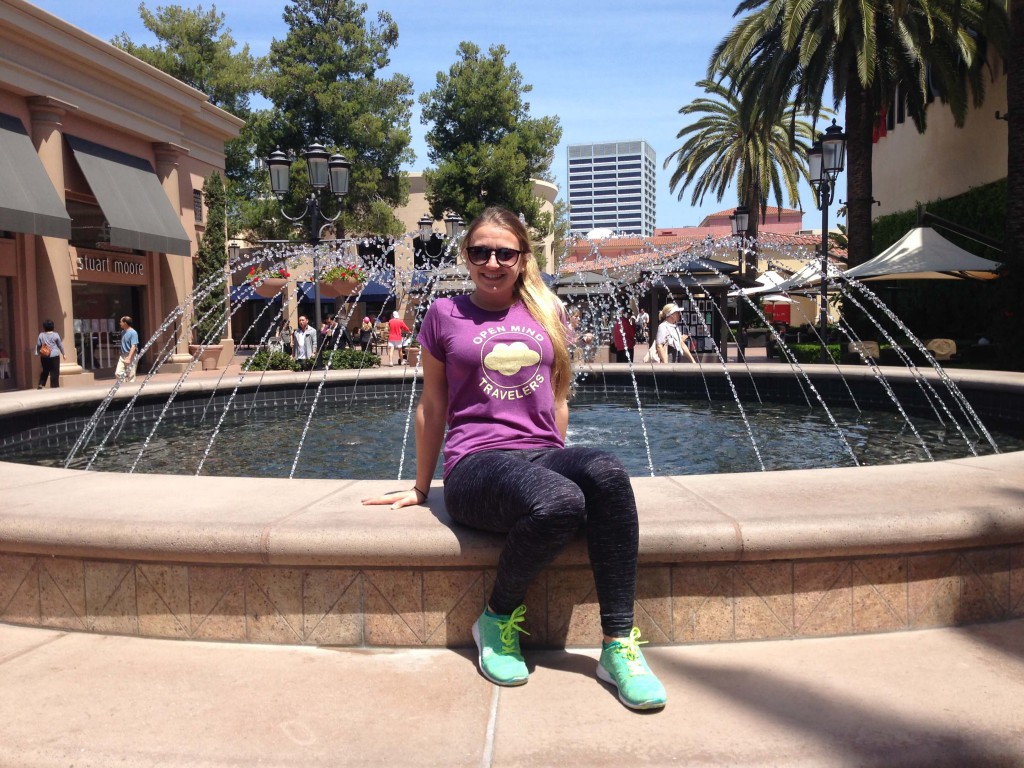 Fashion Island, Orange County
Jeremy's uncle recommended us the Shake Shack at the beach and it was time for my first American burger with some traditional french fries! It was so delicious and the ocean view was incredible!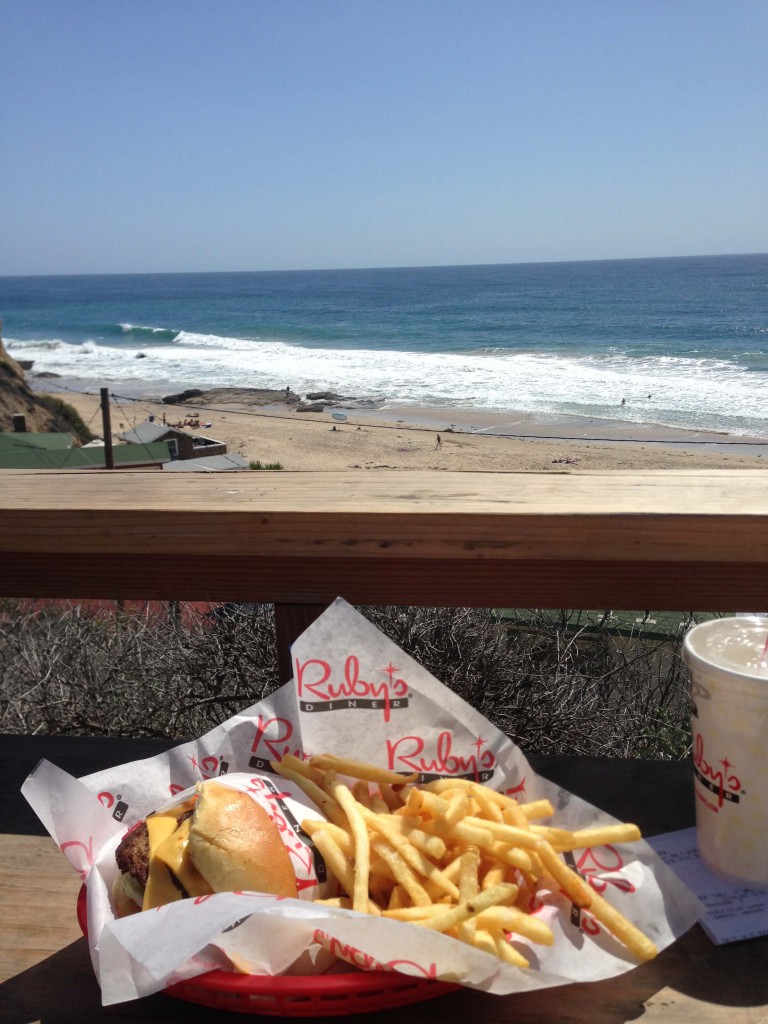 burger time at the Shake Shack in Dana Point
We had a great day with his uncle and made an italian dinner at his house. After sleeping one night in Dana Point, we made our way down to San Clemente, which was only a 20 minute drive.
San Clemente
Wow, San Clemente is one of my favorite cities in California so far. You should definitely go there when you are on the West Coast! We arrived there and I fell in love with this place!
We had to get the van checked so we brought it to PepBoys. We were thinking what we could do in the next hour till the van was ready. Jeremy loves his Rainbow Sandals and their factory is in San Clemente, so we took our bikes and drove there and I got myself a nice pink pair too.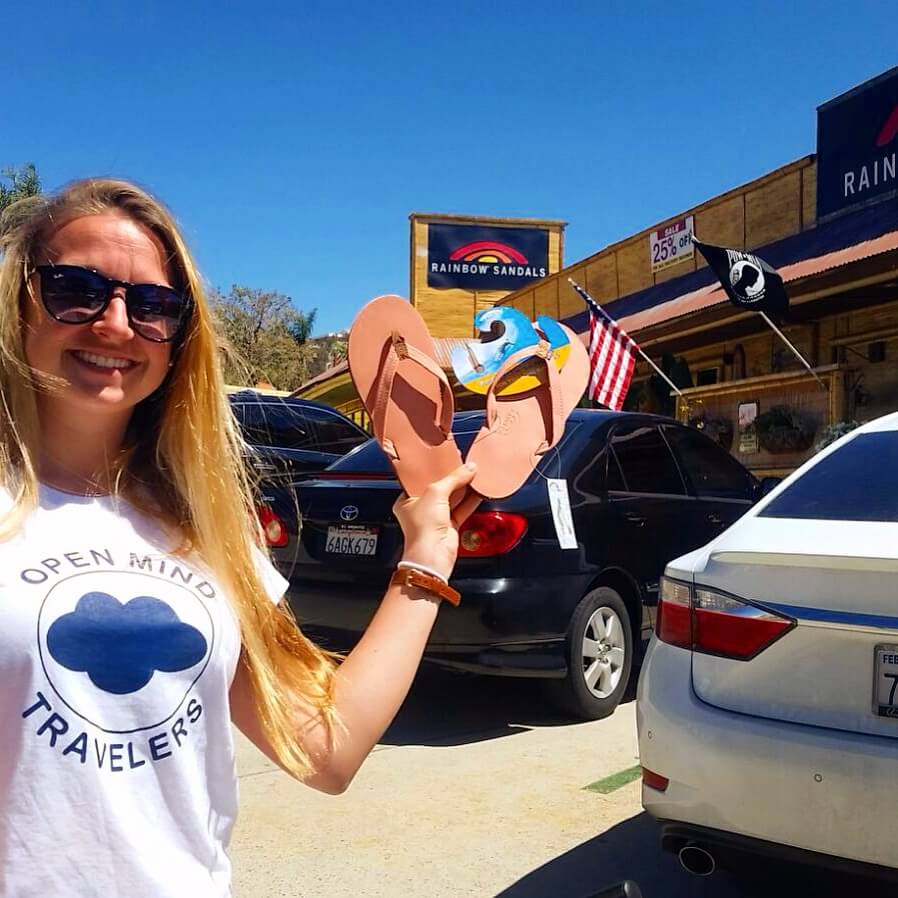 Rainbow Factory in San Clemente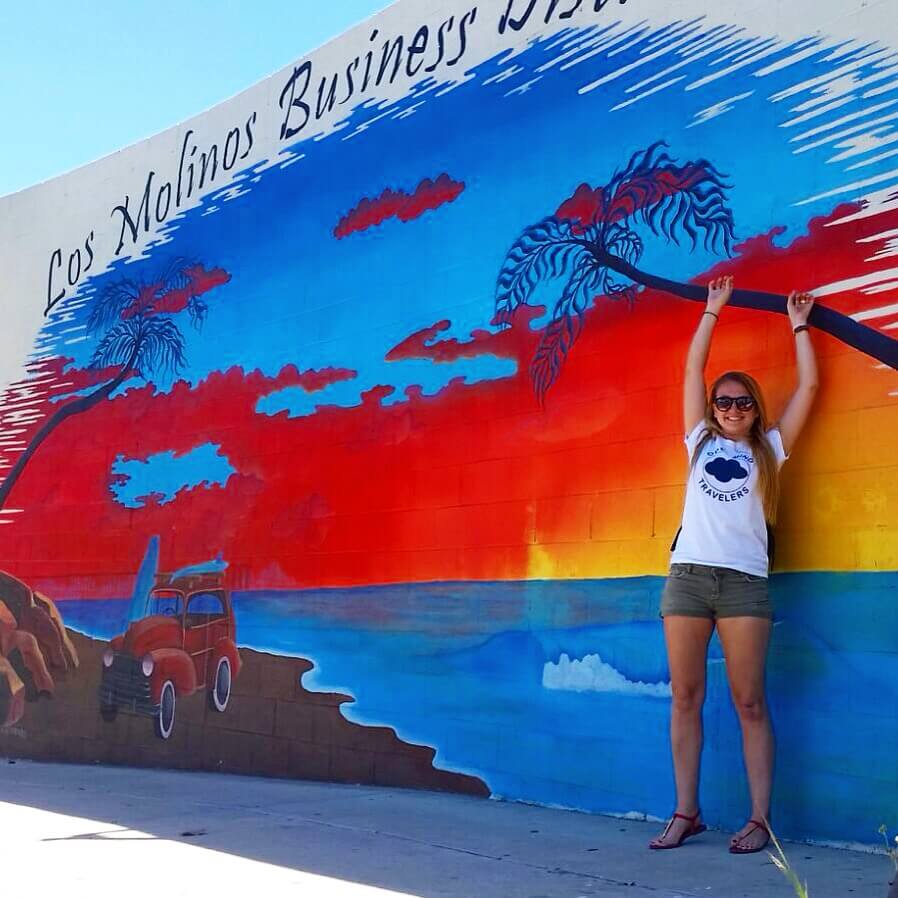 Hanging out in San Clemente
Waking up with the sound of the ocean, having a little breakfast picnic at the beach is just amazing. We are having a lot of fun, chilling at the beach and watching the surfers.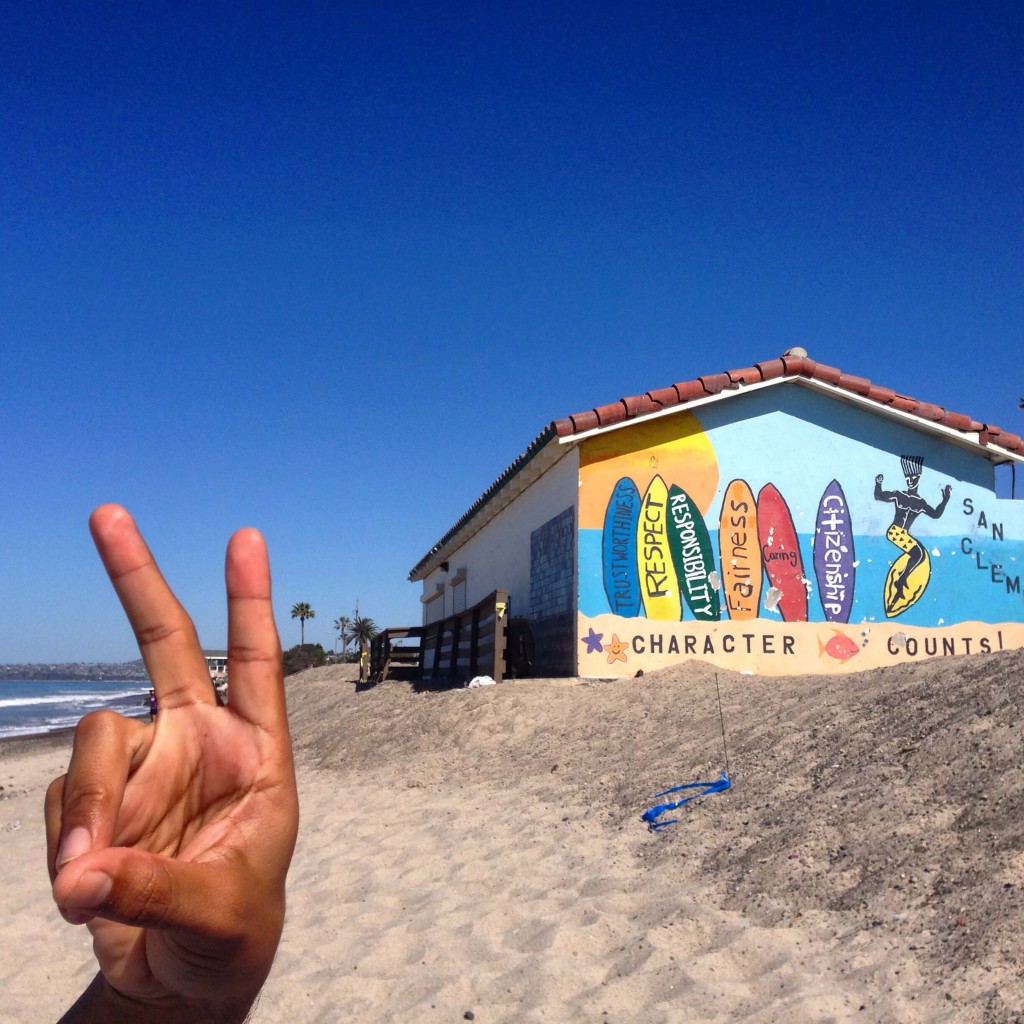 Relaxing at San Clemente Beach
This photo of the incredible sunset was taken on our first evening in San Clemente. We love this place soooo much 🙂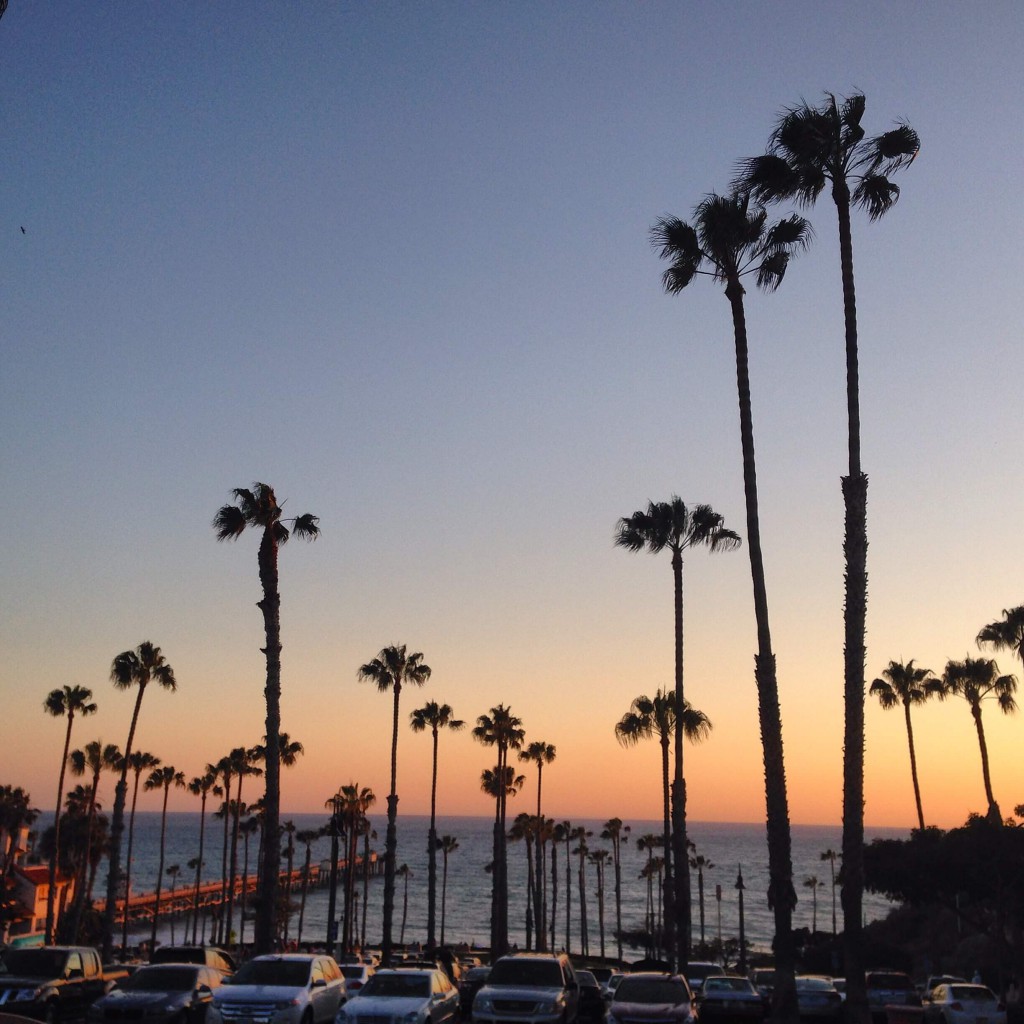 San Diego
After a few nice days in San Clemente, our next destination was San Diego. Jeremy lived there for a couple of years so he knew pretty much everything cool to do. We drove by his old work and spent an hour at Solana Beach. We had a delicious California Burrito and enjoyed it with a perfect view.
We played a little basketball and that was for sure the basketball court with the best view I have ever seen! Jeremy is such a good player, an older man with his little grand daughter was so impressed because he made so many shots.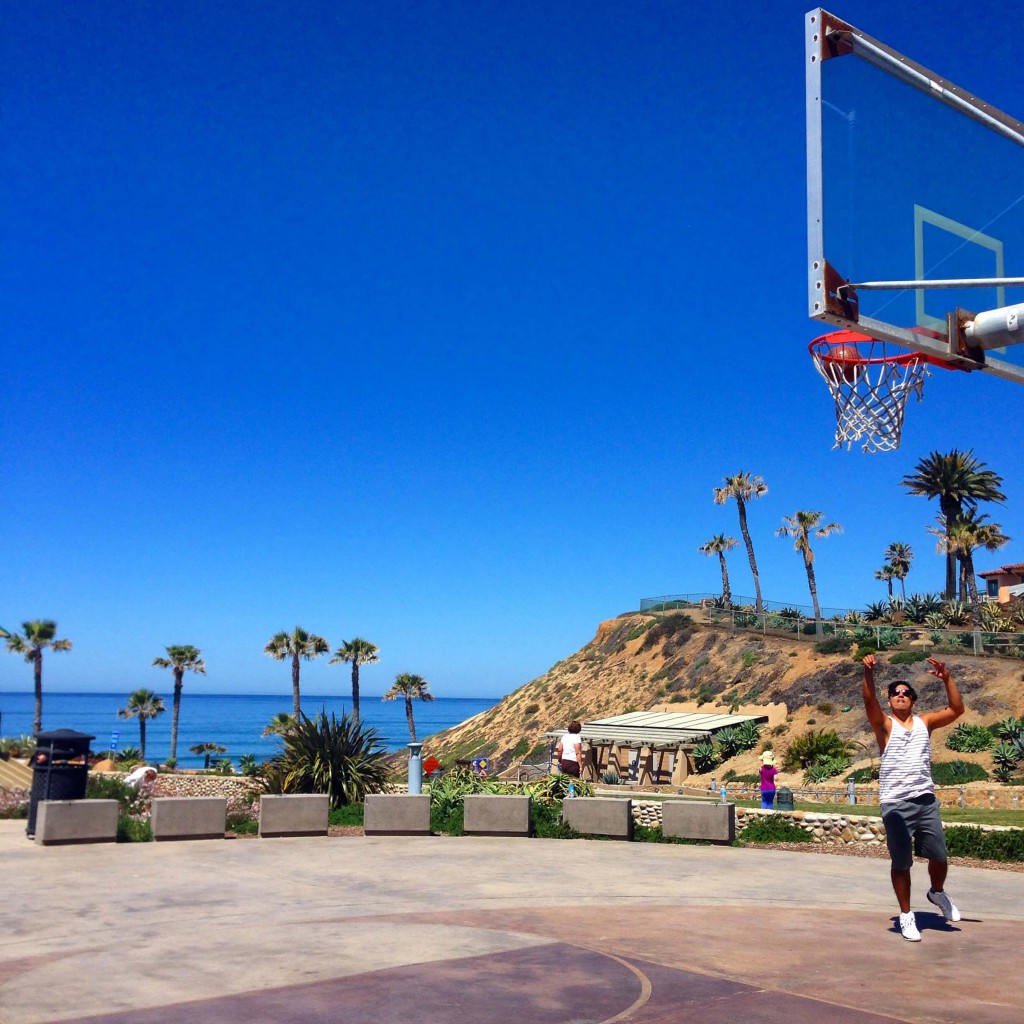 Basketball at Solana Beach
In the afternoon we drove to Pacific Beach and relaxed a couple of hours on the sand.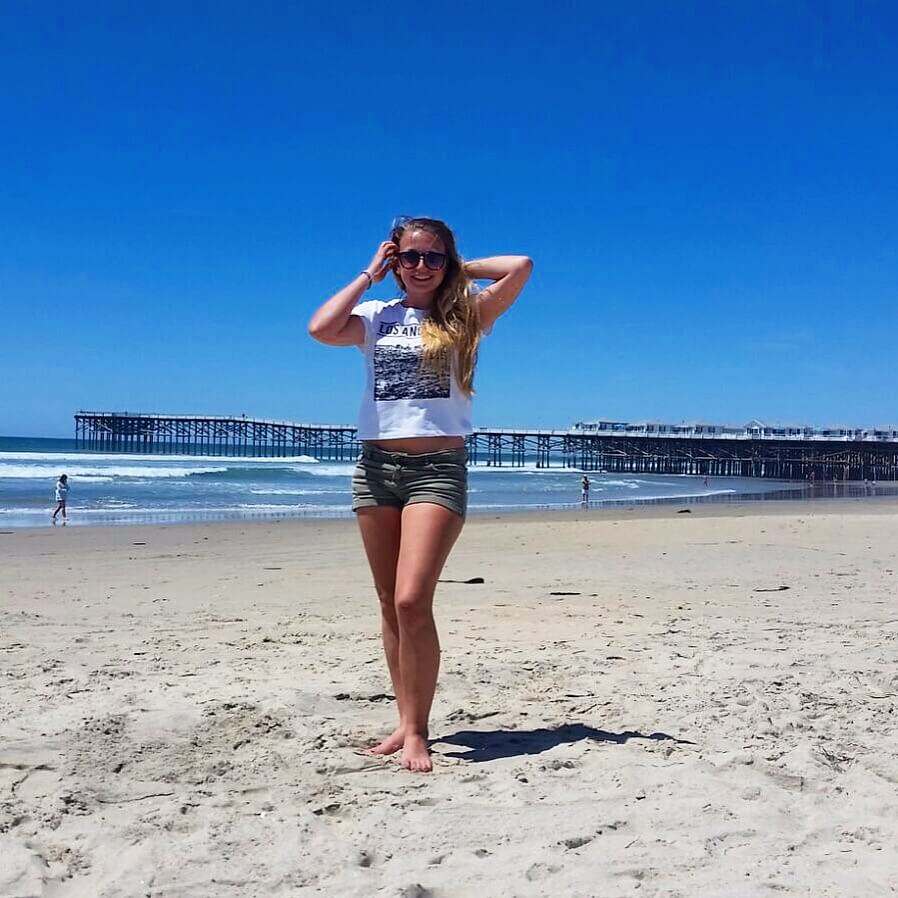 beach time at Pacific Beach
Jeremy wanted to show me Coronado Island so we spent the afternoon there and saw a beautiful sunset.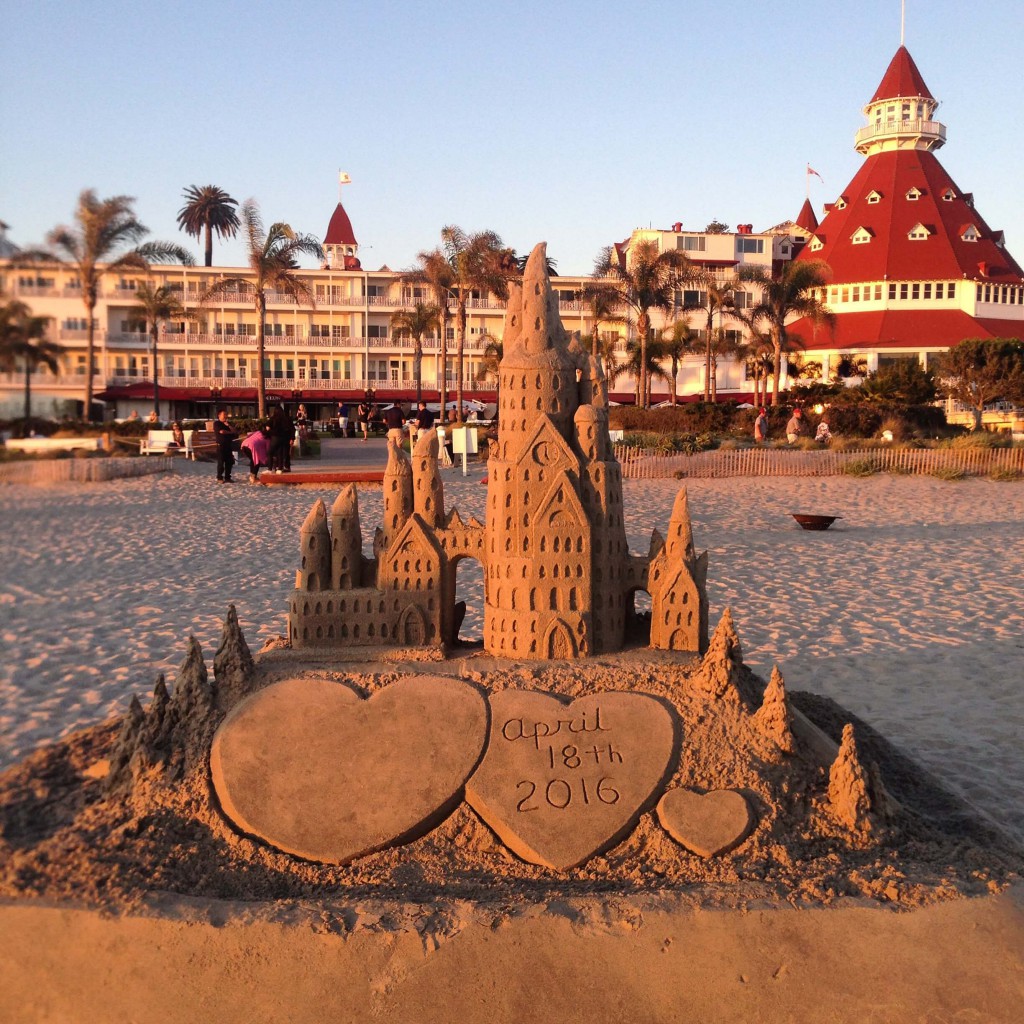 sand castle at the beach, Coronado Island
We spent 3 days in San Diego and rode biked along beach. One night we even went to a San Diego Padres Baseball Game.
great day at PB
Living in a Van is not always easy but it is a great experience and there is no better place to have a nice lunch than at the beach!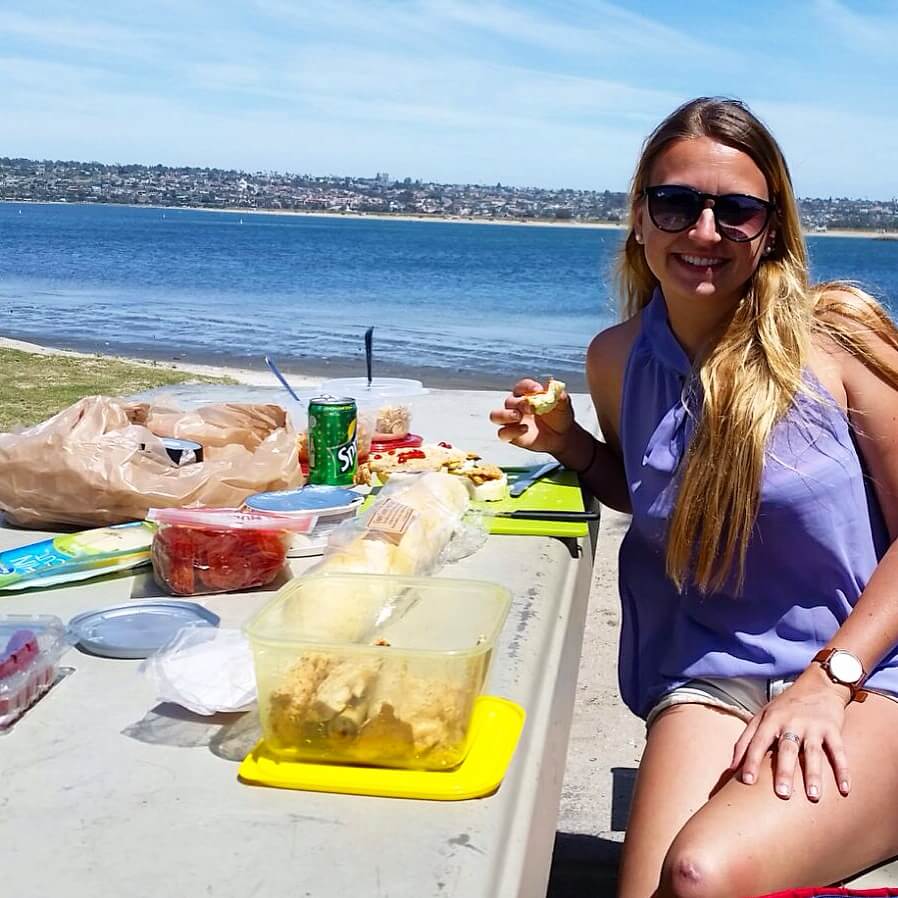 Lunch at Mission Bay
I knew Baseball only from the tv and I did not think I that I would like it. The San Diego Padres Game was my first Baseball Game and it was really fun! We saw 3 homeruns and even the game took longer than 4 hours but it was not boring at all. We were happy that the Padres won.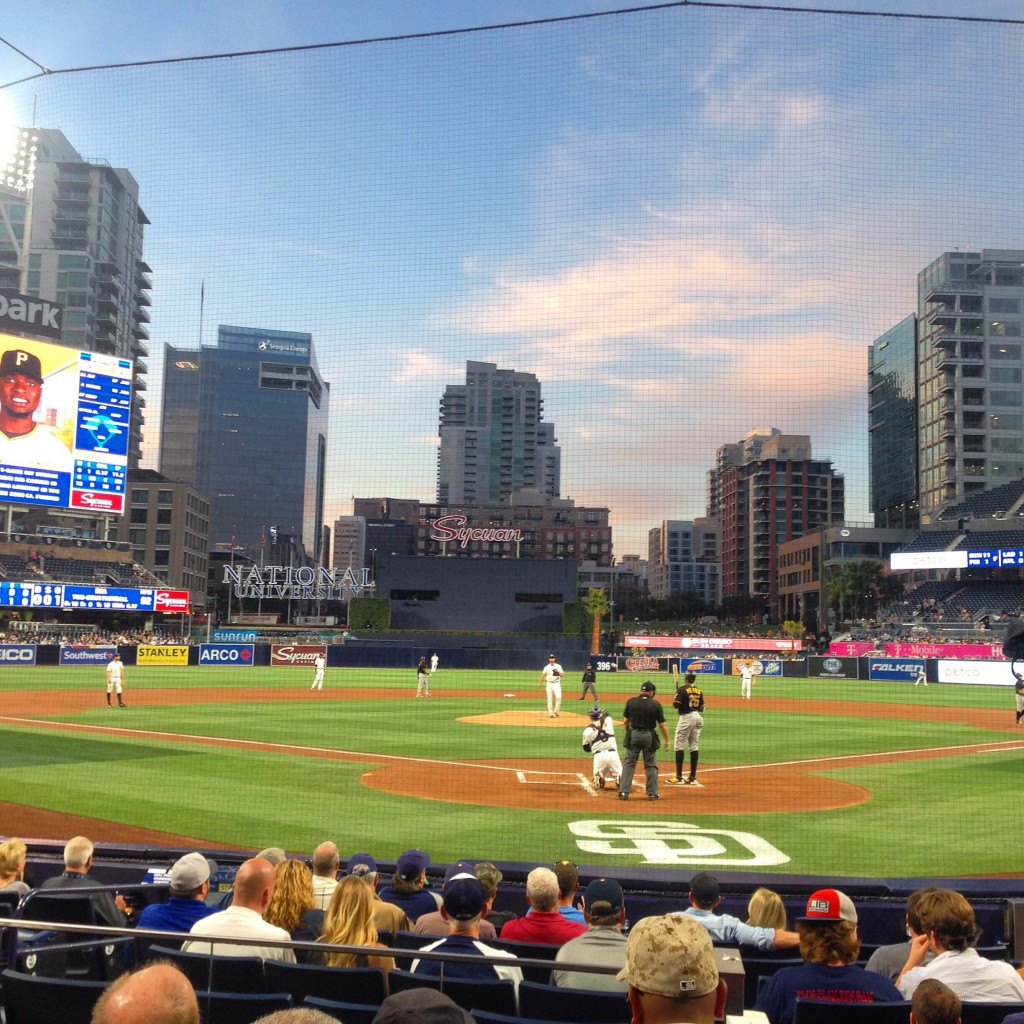 After 8 beautiful days of enjoying the good life on the West Coast, we finally went back to Jeremy's dad's house to repair his surfboard. I think I might want to learn how to surf on this trip too.
stay tuned 🙂