For me it was the first time in Vegas, Jeremy came here several times before.
We did not have breakfast included in our hotel, so we were thinking about going to a lunch buffet in one of the  hotels on the strip.
Jeremy tried the buffets in the Excalibur, Flamingo and Luxor before, but he wanted to try something new. So we were looking to find our favorite buffet in Las Vegas 🙂
Every buffet is about the same price, about $15-30 depending on the time of the day. 
We parked our van in the self-parking of the Excalibur and walked in direction north of the Strip.
New York has no buffet, but there are really nice places to eat as well. It looks like in the streets of New Yorker, but a lot cleaner 😉
I think if you want to eat something that fills you up and have a drink as well, it is not much more expensive to just go to the buffet, where you have a huge variety of food from all over the world and I always need a little of something sweet after 🙂
So I really wanted to check out a buffet.
A few other bloggers wrote that the buffets in the Bellagio and the Cosmopolitan are the best.
As we were walking up the strip, the Bellagio was really far and we went to the Cosmopolitan. Their restaurant is called the wicked spoon and it turned out that this was a good decision.
The price is $27 for the buffet (8am – 3pm) and if you want unlimited mimosas, champagne, etc. you can get that for $43, but we don't really like drinking that much.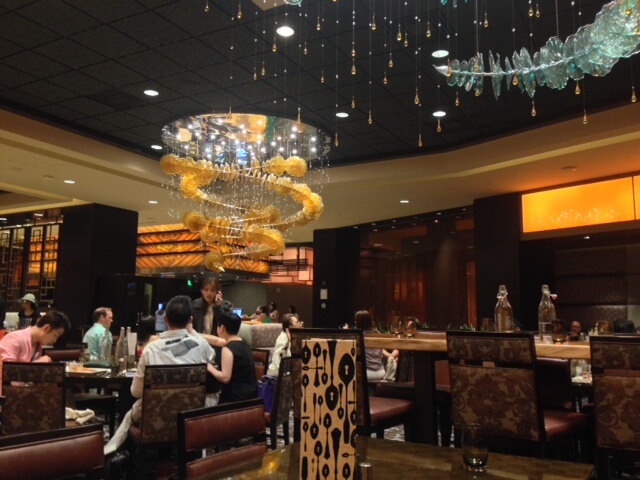 Wicket Spoon – Restaurant in the Cosmopolitan Hotel in Las Vegas
We had to wait in line for about 30 minutes to get a seat, but it was totally worth it.
The variety and quality of the food was amazing.
They had good breakfast, a great salad bar and food from all over the world, like sushi, spanish paella, Italian noodles & pizza and great steaks and meats.
My first course: gnocci, pizza, salmon, chicken skewer and caesar salad
The variety of dessert was really huge, the ice cream and chocolate dipped strawberries were our favorites.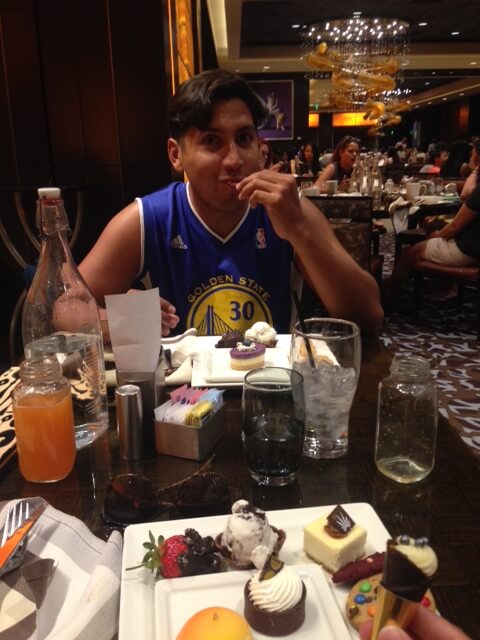 Jeremy is enjoying his dessert 🙂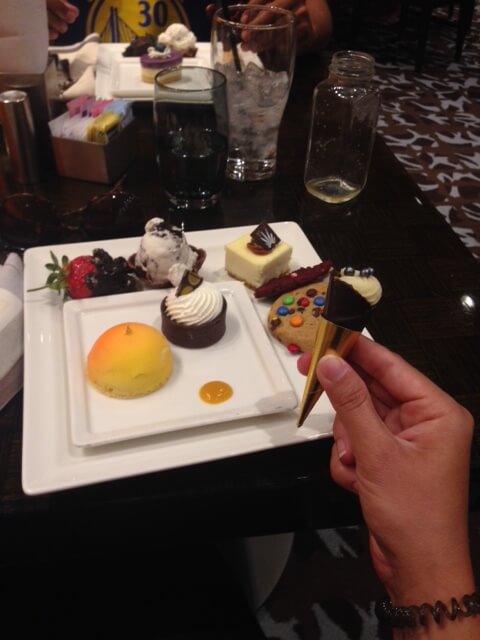 Soooo delicious 🙂
Non alcoholic drinks were included too and we really loved the fresh strawberry-passion fruit juice.
After one hour of eating, we were so full and tired. We could not eat anything anymore for the rest of the day!
Did you try the buffets in Vegas? Tell us about it in the comments 🙂