We arrived in Bali last Friday and had 3 amazing days at the Blue Moon Villas in Amed, east Bali. This was probably the best Hotel we have ever stayed at and we stayed at many many Hotels and resorts the last couple of years. We also celebrated Jeremy's birthday there last Sunday and had a really great time!
Let me tell you more about this beautiful place in Bali and why we want to go back there soon!

Blue Moon Villas, Amed – Bali
Amed is a very relaxed city in east Bali, which is known for incredible snorkeling and diving areas. We fell in love with Ameds green landscapes and the kind hearted locals. So when you are planning a vacation in Bali go to Amed.
When we arrived at the Blue Moon Villas the staff welcomed us very warmly and served us a welcome drink – a fresh watermelon shake, which was refreshing and super delicious. The Blue Moon Villas are 17 rooms, all big rooms/villas with amazing views and they are super clean. On our king size bed was a towel folded as an elephant surrounded with beautiful lotus and hibiscus flower decorations. The staff and the owner of the Blue Moon Villas put so much love in this gem! You can see that they really love what they are doing.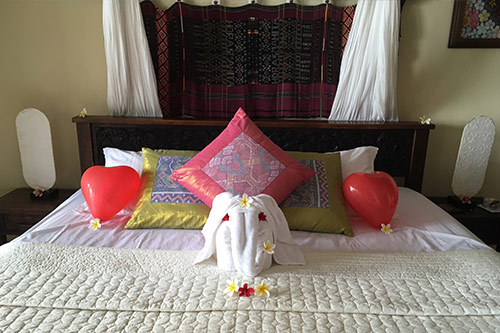 Isn't that a really nice way of making a bed?
We had a huge terrace direct at the incredible infinity pool and the best view of the ocean we could wish for. We enjoyed every single minute in this beautiful hotel! Honestly we wish we could live there forever ❤️️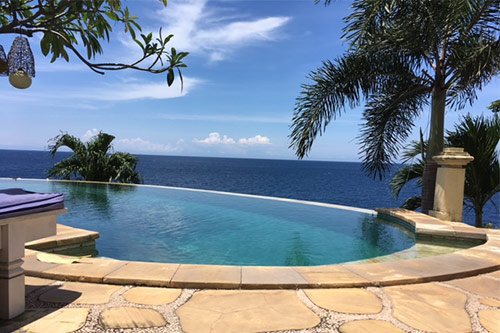 our incredible infinity pool
We had so much fun in the infinity pool with the unbelievable views. We really liked that the Blue Moon Villas have only 17 rooms, which means we had a lot of privacy and we could relax in a quieter area. The 17 villas are on 2 different levels, so you only share the pool with a few other guests. Most of the time we had the pool by ourselves, which was awesome.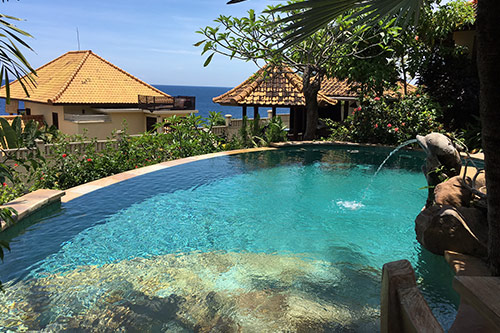 another perfect pool at the Blue Moon Villas
After being in Thailand which is kind of crowded and full of tourists, this resort felt like the perfect getaway and we could relax and find our inner peace.
We celebrated Jeremy's birthday last sunday. Just before midnight I prepared our villa with heart balloons and had a little gift for Jeremy. A bigger gift is waiting for him in Germany, because it wouldn't fit in my tiny backpack! We enjoyed a local massage at the pool in the morning and had good times at the pool. We also had a special dinner at the Komang John Cafe, which served incredible food.

Jeremy's Birthday in Amed, Bali


Jeremy is flying our drone – check our youtube channel
Komang John Cafe at the Blue Moon Villas
The restaurant, which belongs to the Blue Moon Villas is called Komang John Cafe (after the owner Komang John). We can tell you that this is for sure one of the best restaurants in the world as well. We ate there breakfast, lunch and dinner and did not want to try any other restaurant in Amed, because every dish was excellent and we wanted to try so many different dishes. The chef does an incredible job and our favorite meal was the very tender beef steak with redwine & mushroom sauce, local vegetables and potatoes, which we ordered a second time on our last night in Amed!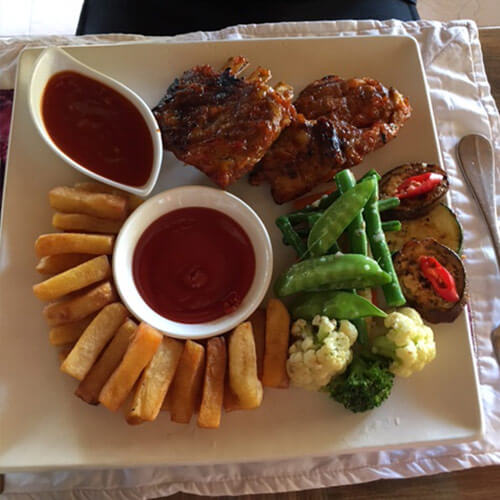 super delicious pork ribs with veggies and potatoes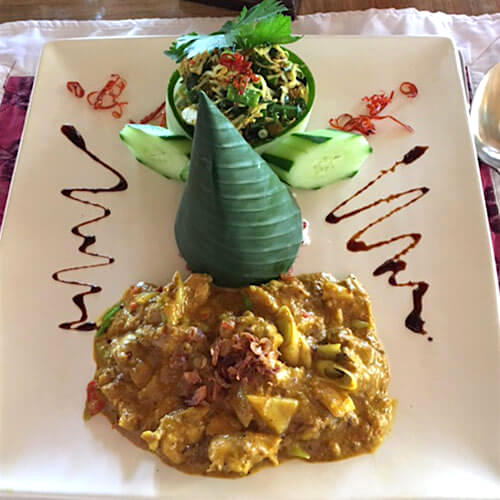 perfect balinese dish – made with love
The chef is such a lovely soul from Bali and came to us during each meal and checked if we like it and we were happy with our choices. We loved every single meal and had a great time with the chef!
Great Times At The Blue Moon Villas In Amed Bali
We got to know the staff pretty well these last days and can tell you that they are such kind hearted and sweet people, who are passionate about what they do. 
Everything was excellent and we can highly recommend the Blue Moon Villas to everyone who is coming to Bali and is looking for a great time! These villas are incredible, the views are breathtaking and the staff is excellent.
Love,
Ina
How useful was this post?
Click on a star to rate it!
Average rating 0 / 5. Vote count: 0
No votes so far! Be the first to rate this post.