After our short trip to the Gili Islands, we arrived on Friday in Sanur, Bali, where we stayed at The Gangsa Private Villa by Kayumanis, currently known as Kayumanis Sanur Private Villa and Spa for the weekend. The staff greeted us with a warm welcome and we were overwhelmed with so many wonderful gifts upon our arrival. We recieved beautiful welcome flowers, refreshing cold towels, very delicious welcome drinks, which we were able to choose from the menu, as well as a 15 minute welcome massage at the Rebab Spa, which belongs to The Gangsa Private Villas. The nice ladies at the spa asked us to choose between a head, shoulder or foot massage. Jeremy picked the foot massage and I decided for the shoulder massage. We both really loved it and enjoyed every minute of the welcome massage. The pressure was perfect and we felt very good and relaxed.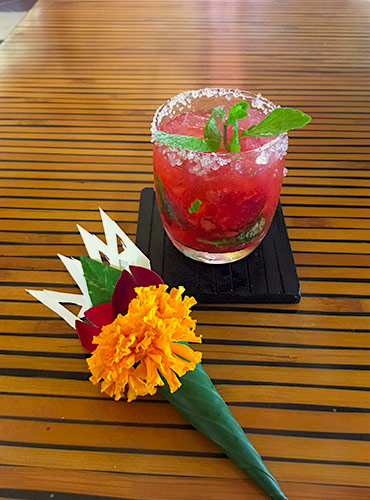 delicious welcome drink with welcome flowers
Kayumanis Sanur Private Villa and Spa, Bali
After the great welcome massage we could check into our incredible private villa called Jogogan. Arya showed us the way and opened the door for us to show us the villa and we were so impressed. We did not expect it to be so spacious and luxurious.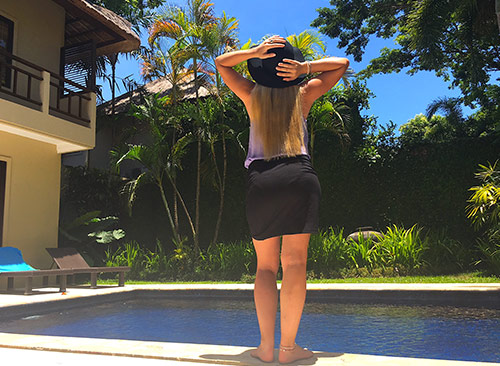 so in love with our private villa and the tropical garden
It is the perfect escape in an idyllic home away from home with a tropical atmosphere and local charm. 
Take a look at our beautiful home for the weekend: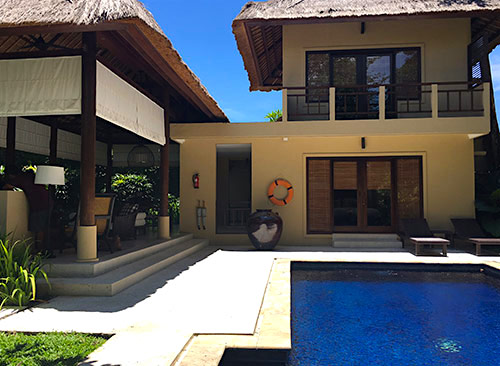 our luxury private villa "Jogogan"
At the outside of our villa is a huge living room with a sofa, relax chairs and a tv as well as a kitchen and a table. In the inside is our lovely bedroom and the huge bathroom with an open shower and a bathtub.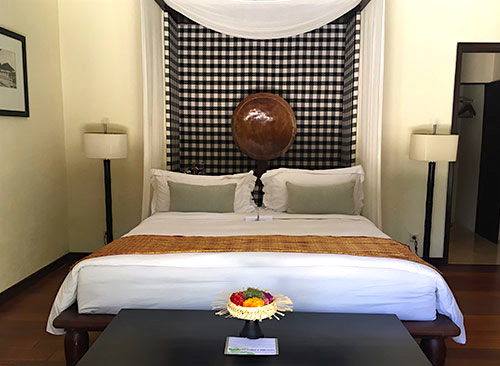 our beautiful bedroom at our private villa
Everything was prepared so beautiful for our stay and we fell in love with the design of the whole villa.
On the upstairs is another room with a sofa and a desk as well as a balcony overlooking the nice pool.
The tropcial garden of our private villa is gorgeous: everything is so green and well maintained with beautiful flowers. We were awaken by little birds singing outside in our garden every morning.
The breakfast is served in the gong restaurant or in the private villa. They offer a huge variety of delicious local and international food. Everything we had was homemade and super delicious. We loved the homemade strawberry and pineapple jellies as well as the Bali coffee and the fresh pressed orange juice. They also make the best banana pancake in the world! I wish I could wake up every single day to a perfect breakfast like at the gangsa private villas by kayumanis!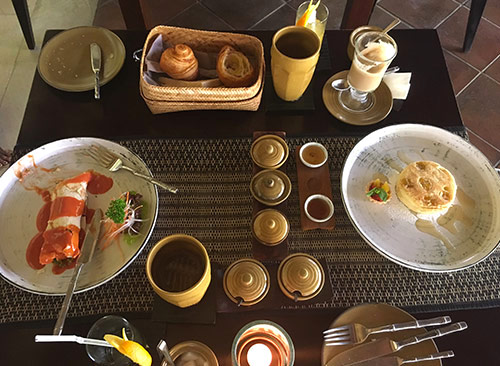 the perfect breakfast at Kayumanis Sanur
The staff serves high tea every afternoon between 2.30 and 5 in our private villa. We just make a call whenever we are ready for it and somebody comes to set up the table in our living room with tea and coffee and super delicious snacks: sandwiches, pastries and cookies.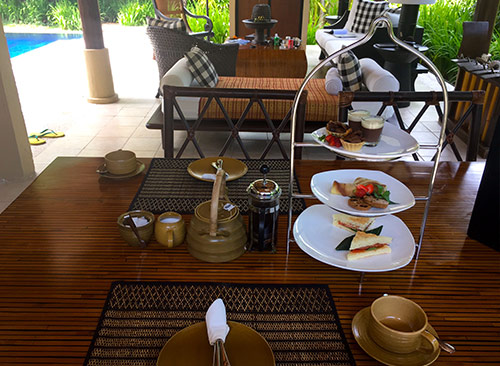 high tea time – served in our private villa
excellent snacks in the afternoon
The villas are not direct at the beach, but Tha Gangsa Private Villas by Kayumanis, currently known as Kayumanis Sanur Private Villa and Spa have drivers to bring us to the beach and the Sanur city area, which is perfect. We actually like that the luxury villas are a little away from everything and we are surrounded by the beauty of nature. It is very calm here and that was exactly what we were wishing for!
The Kayumanis Sanur Private Villa ans Spa is the perfect escape for couples as well as for families. It is also an incredible place for a honeymoon or anniversary vacation with the love of your life. 
We had an amazing time here in our private Villa Jogogan and will always remember this perfect weekend with the excellent service.
Book your perfect escape to Kayumanis Sanur Private Villa And Spa here: www.kayumanis.com
On the 1st of April 2017 The Gangsa by Kayumanis changed their name into Kayumanis Sanur Private Villa & Spa and the villas got a redesign as well. We were very happy to see the model villa and we can tell you it looks awesome. The new design is really incredible, the whole exterior will be in a lighter shade of color and it is very inviting.
How useful was this post?
Click on a star to rate it!
Average rating 5 / 5. Vote count: 1
No votes so far! Be the first to rate this post.