The Angkor Heritage Boutique Hotel is a great 4 Star Hotel with a beautiful pool in the tropical garden. It is a place to relax and enjoy with a lot of opportunities around it.  The Hotels has 30 well appointed spacious rooms and we can highly recommend it for familys as well.
We enjoyed 3 days there, relaxed at the pool, went for sightseeing to the Angkor Wat Temple complex, which is a UNESCO Heritage Site and had a really great time in Siem Reap!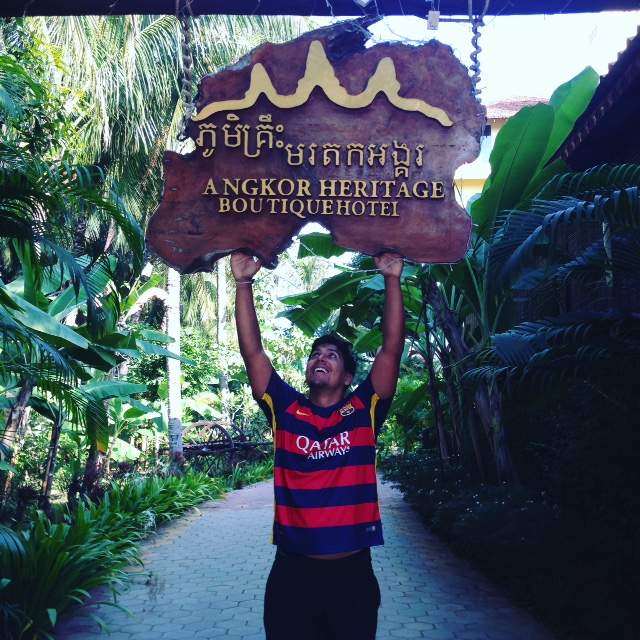 When you walk in this beautiful Hotel, you feel like in a tropical garden. There are so many plants and flowers, it is really nice. This buddha statue is in the middle of the lot.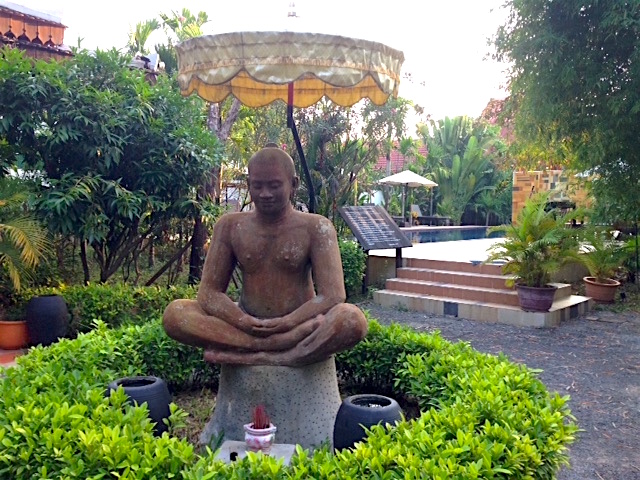 tropical garden
Our hotel room in the Angkor Heritage Boutique Hotel was very big and we felt like home there. Everything is arranged nice for the guests. The four-poster bed is definitely a highlight in the rooms and we slept so good there. On the wall in front of the bed is a TV hanging. The room is furnished with a desk and a coffee and tea station as well. We had everything we needed for our few vacation days in the Angkor Heritage Boutique Hotel in Siem Reap.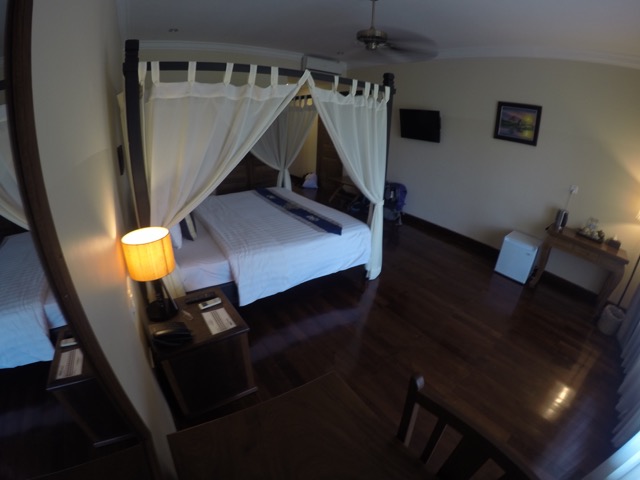 our huge hotel room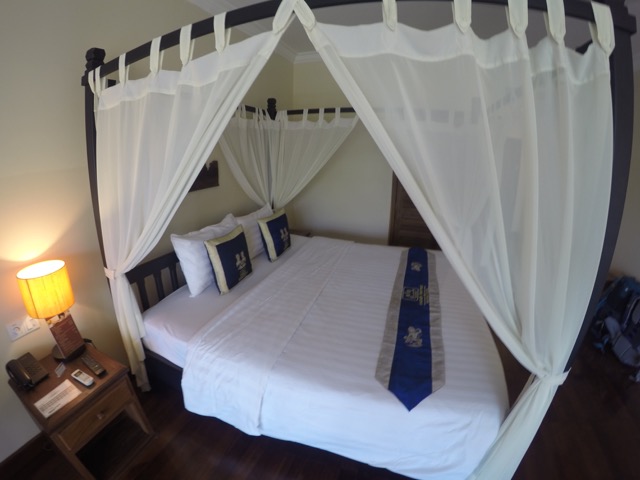 my dream bed 🙂
Another highlight of our stay in the Angkor Heritage Boutique Hotel was our huge balcony with a perfect view of the garden and the pool. We were sitting there often, talking and relaxing.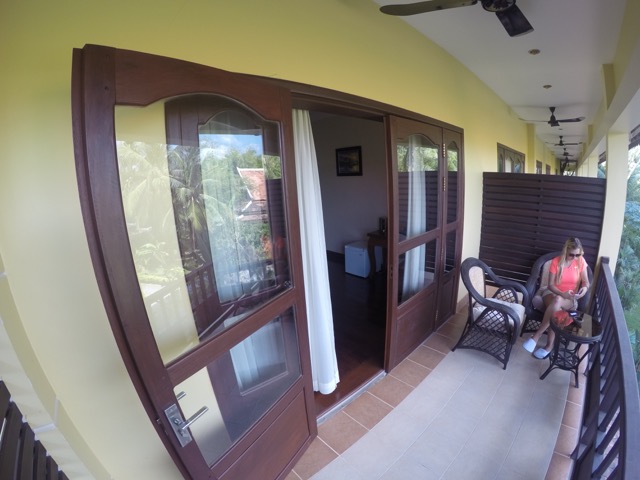 huge balcony with a view of the tropical garden and the pool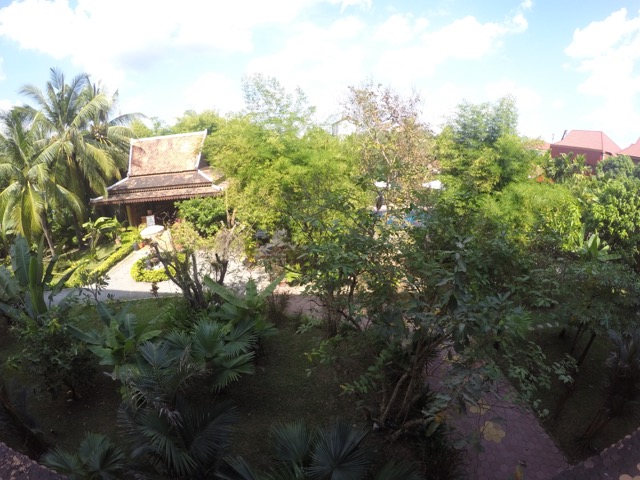 our nice view from the balcony
After a half day walking through the ruins of the UNESCO Heritage Site of Angkor Wat, we needed to take a break and relax a couple of hours at the pool. I loved that there were not so many people and I really enjoyed, that this hotel is a quiet hotel, 15 minutes away from the busy city center.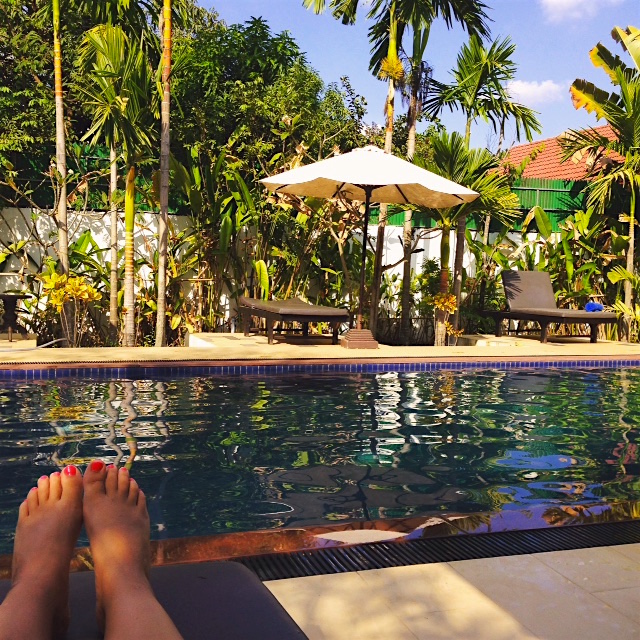 Our stay at the Angkor Heritage Boutique Hotel included a delicious breakfast buffet. It was set up very graceful and they had a good variety of food. When we are traveling I love to eat like a local, so I had noodle soup for breakfast in Cambodia.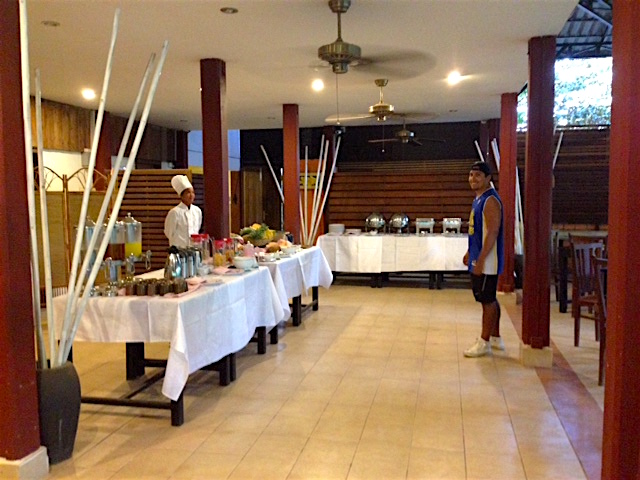 Breakfast buffet
This is a great Hotel, a few minute drive from the city center and the night markets of Siem Reap. If you are planning a trip to Angkor Wat and Siem Reap check availability and rates for the Hotel here: Angkor Heritage Boutique Hotel
How useful was this post?
Click on a star to rate it!
Average rating 0 / 5. Vote count: 0
No votes so far! Be the first to rate this post.