After one Day in the busy City Bangkok we had a Flight to Chiang Mai for 28€ per Person.There are buses and Trains too, which take about 12 to 16 Hours, and i thought the flight is much easier and not too expensive.
So After we arrived in Chiang Mai, we checked in at julies guesthouse, met a few People (many Germans), went out for a good Massage at friend Thai Massage and had a good evening at the Night market. That was an amazing day 🙂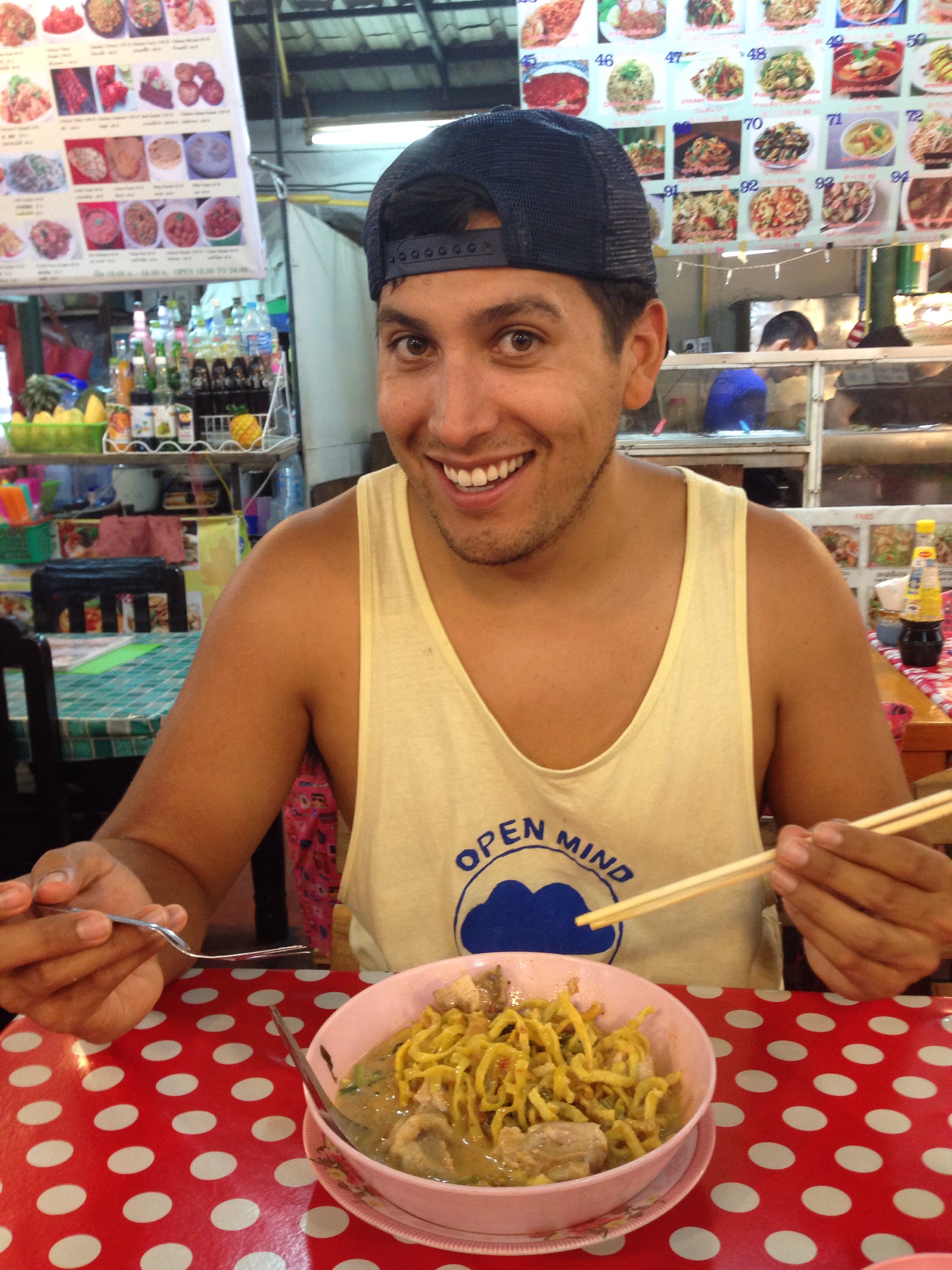 We planed a Trip by scooters with 3 German Girls to the highest Mountain in Thailand for the Next Day.
So we woke up early to met the Girls for breakfast.
Jeremy knew a good Place to Rent scooters for only 100 Baht a Day and everybody got a Scooter for two days so we could camp in the Mountains for one night.
With our cool scooters we drove around the City of Chiang Mai to get used to it, but after 3 minutes the Police stoped us for a drivers licence control.
Of Course they could not understand the German Language and one of the girls showed her id card because she forgot the drivers licence in the Hostel. So we were fine and didn't have to pay…
After 15 minutes of Drive one of the Girls fell off the scooter, but fortunately she was fine.
We drove out of the City in direktion Mountains and the Street had a Little more curves.
Half way to the Mountains the scooter line was a gravel road and i guess i was on the break and the gas at the same time and then everything happened so quick: I lost controll and I fell off my scooter and woke up behind the guardrail.
I didn't know how bad it was, so i got up, asked one of the girls who were raiding behind me and stoped after my accident, to help me back over the guardrail.
Then I looked at me:
My knee looked very bad, there was a scary big hole in it and it started bleeding. There were a few other scratches on my foot, elbow, but nothing bad like my left knee. But I did not really feel the painting at this Moment.
Then I had to lay on the ground to not pass out.
Jeremy came and was shocked too. A few Thais were standing around me, one was pouring water over my knee to clean it and the the ambulance came to bring me to the hospital.
Jeremy was driving behind the ambulance and I came to San patong hospital, were the people were so nice and friendly.
They cleaned my wounds. Thanks for the local anesthesia 🙂 and bandaged my elbow, foot and knee.
We went outside but I had to lay down again because otherwise I would passed out.
Jeremy brought me water and food and we were thinking what to do now.
We decided that I would wait for him to take his scooter back to Chiang Mai and he would get my scooter from the spot where the accident happened.
I needed to relax and fortunately I had no pains because of the anesthesia.
Jeremy planed to be back in 1 to 1,5 hours, but time went by and after waiting 2 hours I got so scared and texted him.
After a few more minutes I tried to call him but his phone was out of service.
I was so worried, It was almost dark outside and then sooo happy when I say him coming to the hospital after more than 2,5 hours.
It Took so Long because Jeremy had to find a ride to get My Scooter, after he gave his scooter back and that was very far. At First he had a tuktuk driver, who realized that it was really to far and then he got a truck, who Took him to the Spot where he left my scooter, but the scooter was not there anymore. He talked to a few people and found out that the Police Took My Scooter. So Jeremy had to get to the police station to get the scooter, we were lucky that they did not charge us. He had to put up with a lot this day.
The bandages were a little bloody so we went in the hospital again and the friendly nurses cleaned my wounds again and recommended a close guesthouse for the night.
That was one of the worst days in my life so far.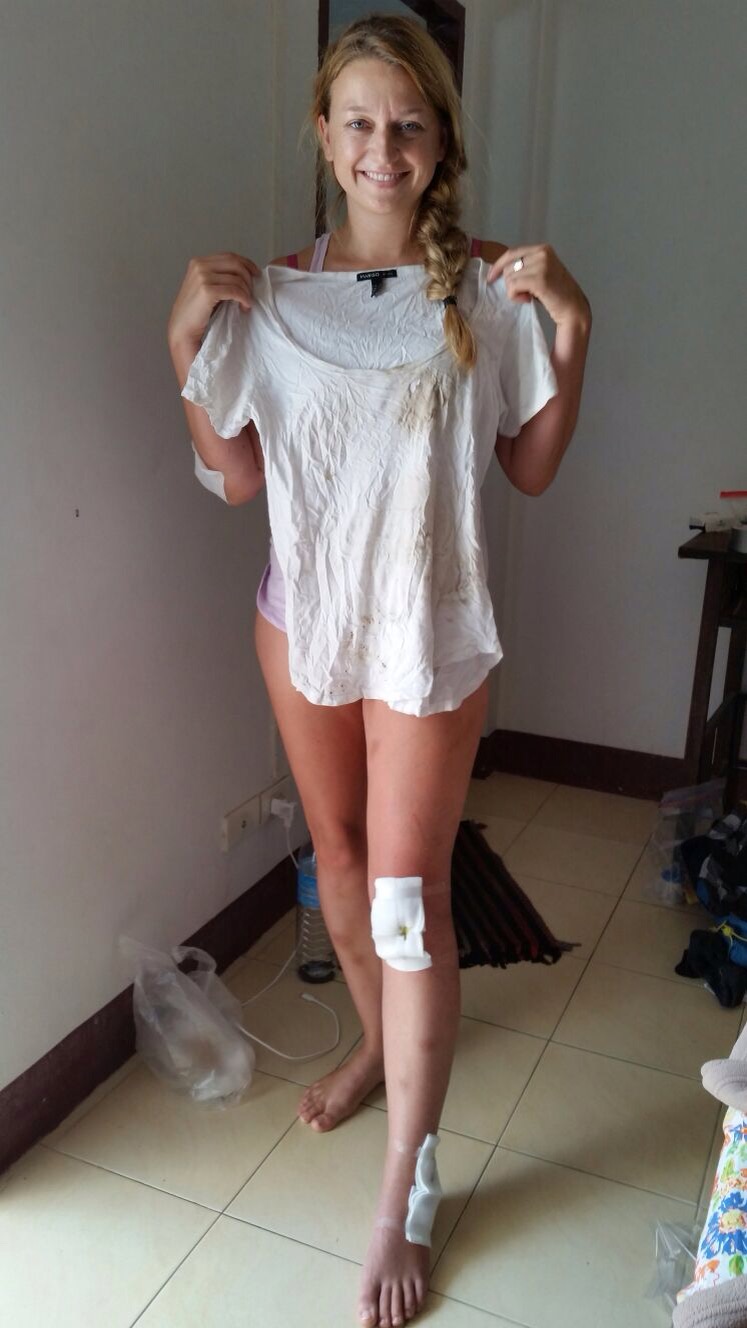 But at the end I am so happy that nothing really bad happened. My head is ok although i lost my helmet during the fall, nothing is broken and my spinal is fine too.
I just need to have patience now.
We are in Pai at the moment and I have time to recover.
Thank you so much Jeremy for everything you are doing for me!!!
And here are a few horrible photos:
How useful was this post?
Click on a star to rate it!
Average rating 0 / 5. Vote count: 0
No votes so far! Be the first to rate this post.